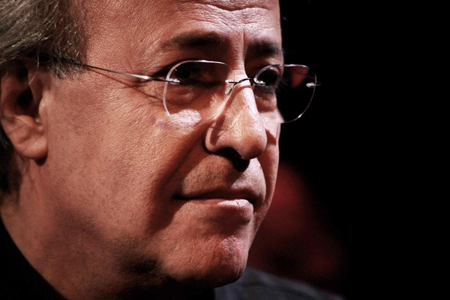 Abed Azrié is a French composer, born in Aleppo, Syria. He has published some twenty music albums, composed music for films and published several books, including his well-known adaptation of the Gilgamesh epic into French. On his tours throughout Europe, the United States and Mexico, he inspires his audiences with the modernity of his compositions and universality of his poetic messages. His music has long enjoyed the admiration of artists as diverse as Yehudi Menuhin, John Adams, Jeff Buckley, Leonard Cohen or René Char.
Abed Azrié sees himself primarily as a man of freedom. He believes in the arts as a medium of humanity and is defending an art that is free from entrenched forms and limitations and is aiming directly at man in his universality and timeliness. For him, « a word which is sung is no longer just a simple word, but it is enchanted, transformed into trance ».
The texts which he selects for his compositions are from oriental and western, ancient and contemporary poetry, and are written in different languages (Arabic, Spanish, French, Venetian, German and English): Adonis, Andrea Zanzotto, Omar Khayyam, Jean Cocteau, Gibran, Hafiz, Goethe, and others...  All these texts have one thing in common: they are evoking the fullness of life and they celebrate the miracle of life, the freedom of the mind and the opening of the heart.
Serving these essential texts, Abed Azrié is writing a luminous, profound and refined music, which combines in ever renewed ways instruments, rhythms and voices, creating a universe of sound that only belongs to him. His music expresses an exceptional vitality inhabited by a subtle sense of the sacred without reference.
From his first album,
Le chant nouveau des poètes arabes
(1971) up to the latest,
Adonis
(2011), Abed Azrié is always in search of previously unheard sounds.
Suerte
(1994), written for three ensembles, an oriental, western and flamenco ensemble, is floating freely between musical notation and improvisation.
Omar Khayyam
(1998) presents for the first time Arab singing accompanied by a chamber ensemble.
Venessia
(2000) sets into music the Venetian texts by Andrea Zanzotto in an organic way. With the
L'Évangile selon Jean 
(Gospel of John) (2009), Abed Azrié presents an oratorio for solo voices, mixed chorus and an oriental and western orchestra.
Mystic
(2007) and
L'Épopée de Gilgamesh
(Epic of Gilgamesh)(1977 and 2010) identifies key stages of his preoccupation with the oldest texts of mankind, which he set to music for singing.
In 1990, he signed his first contract with American Nonesuch/Warner for his album Aromates followed by a contract for three albums with Sony Music in 1995. Harmonia Mundi now distributes his music.